originally published: 04 June 2021 | origin: https://unocha.exposure.co/a-great-unseen-humanitarian-crisis
Migrants and Refugees in Yemen
The road from Ras al-Ara to the port city of Aden, in southern Yemen, runs for almost 90 miles through barren, windswept desert. The landscape is scorched by the sun, and temperatures often teeter around 40°C. Reminders of Yemen's complex six-year-old war abound: burned-out tanks litter the roadways and stern fighters man checkpoints. Occasionally, along the road, you'll see small clusters of people—mainly young men—making the arduous trek towards some dimly glimpsed point on the horizon, often carrying only a bottle of water and wearing only flip-flops on their feet.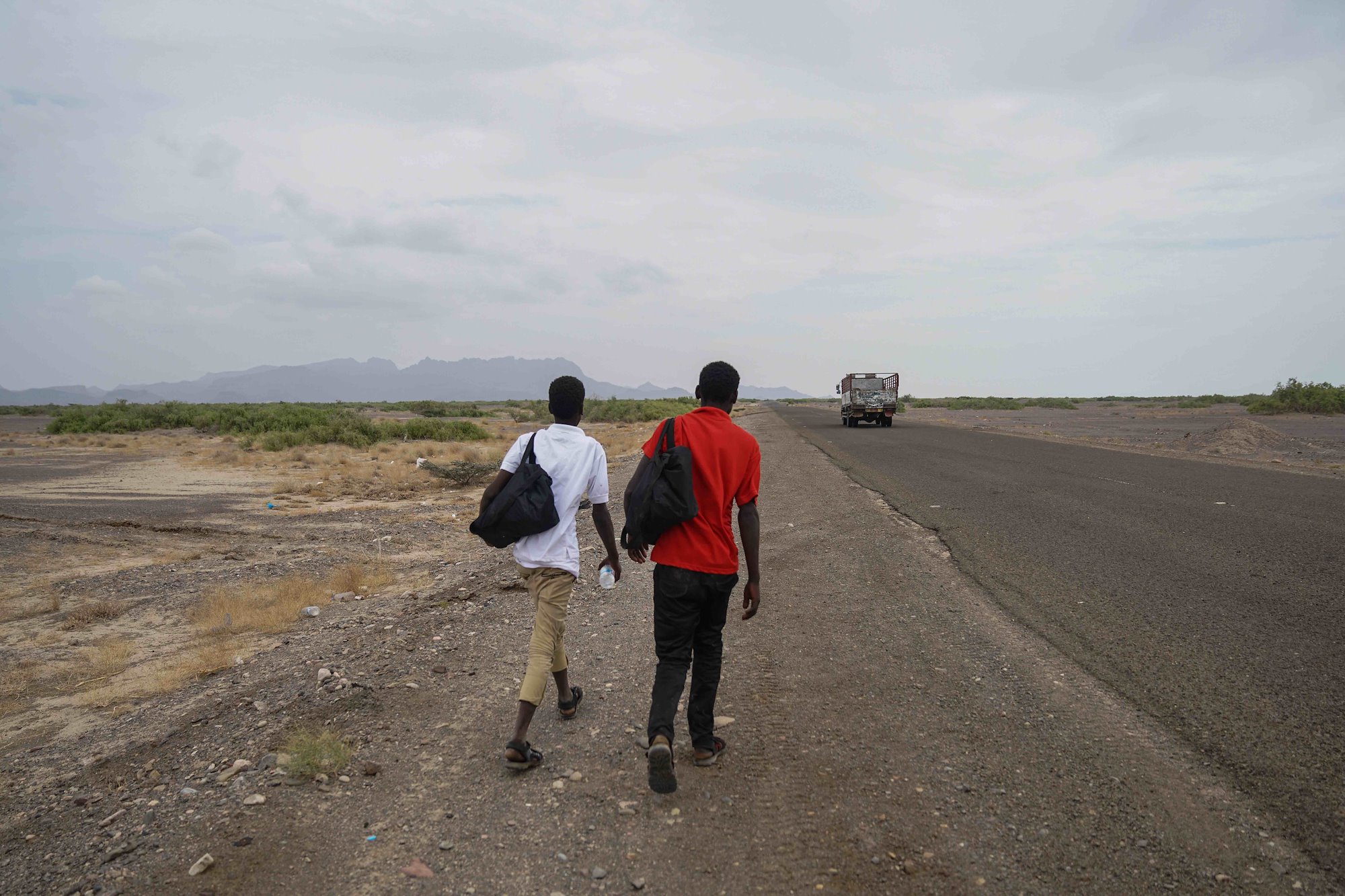 Two Ethiopian men, aged 15 and 17, walk the long road towards Aden from Ras-al-Ara, some 150 km to the east. They arrived a week earlier from Djibouti by smuggler boat.
These lonely figures in the burning desert are some of the tens of thousands of East African migrants and refugees — mainly from Ethiopia and Somalia — who head north, braving the dangers of war-torn Yemen in search of a better life in Saudi Arabia. They are part of "one of the great unseen humanitarian crises of our era," as an international aid worker in Aden put it recently. They have arrived in rickety, overcrowded dhows from smuggling ports in Djibouti and Somalia, yet they count themselves the lucky ones. That's because they have often seen their fellow travellers dead of thirst in the deserts of East Africa, and because many of the boats sink in the choppy, shark-infested waters of the straits that lie between Africa and the Middle East. In 2018, there were 274 recorded deaths on such dhows, but without proper registration and tracking that number is surely much higher.
Ras al-Ara is a small windswept town known for its fishing and for its smugglers. Many boats transporting migrants and refugees land there because of its proximity to the Djiboutian coast. Recently, just outside town, two slender young men from central Ethiopia in red T-shirts, both named Mohamed, were ambling along the cracked tarmac, seemingly stunned by the blaring sun. Around 60 migrants had arrived in the last few days, according to a worker for the UN's International Organization for Migration (IOM). One of the young men was 17 and the other 18. They were both from Oromia, a region that UNICEF says has the highest number of children living in poverty in Ethiopia, and they were both hungry. (According to IOM monitoring, the vast majority of migrants on this route are Oromo.) An IOM mobile team, tasked with providing emergency and medical support to people along the way, stopped to give them food.
When the two men finished the water and high-energy biscuits provided by the mobile team, they began to tell their stories. They had both been in high school in central Ethiopia, but their school had closed because of the increasing tensions between different ethnic groups in their town, they said.
Both Mohameds were friends, and they decided to leave when an older man told them they could find work abroad. He introduced them to a smuggler, who agreed to take them through Djibouti and across the sea to Yemen. They said it was unclear to them where they would find work, but they'd heard that work was abundant in Yemen. (According to IOM, the vast majority of migrants hope to go to Saudi Arabia.) They did not understand that the country was in the middle of a civil war.
The elder Mohamed started to tell the story of their first week in Yemen. Six days beforehand, after a sea journey that lasted around 12 hours, their boat landed just before dawn on the shore nearby. "We arrived on the boat, and immediately we were surrounded by men with guns," he said. "They demanded money and held us until we paid. Of the 60 who arrived, 54 are now free. There are still six people being held by them."
In Yemen, migrants like the two Mohameds face kidnap, torture, detention and abuse by smugglers, armed groups and criminal gangs, who try to extort their already impoverished families. Kidnappers will get their captives to call their families and funnel more to their facilities, from where they promise to spirit the migrants to Saudi Arabia, but where they actually extort them for every penny they can find.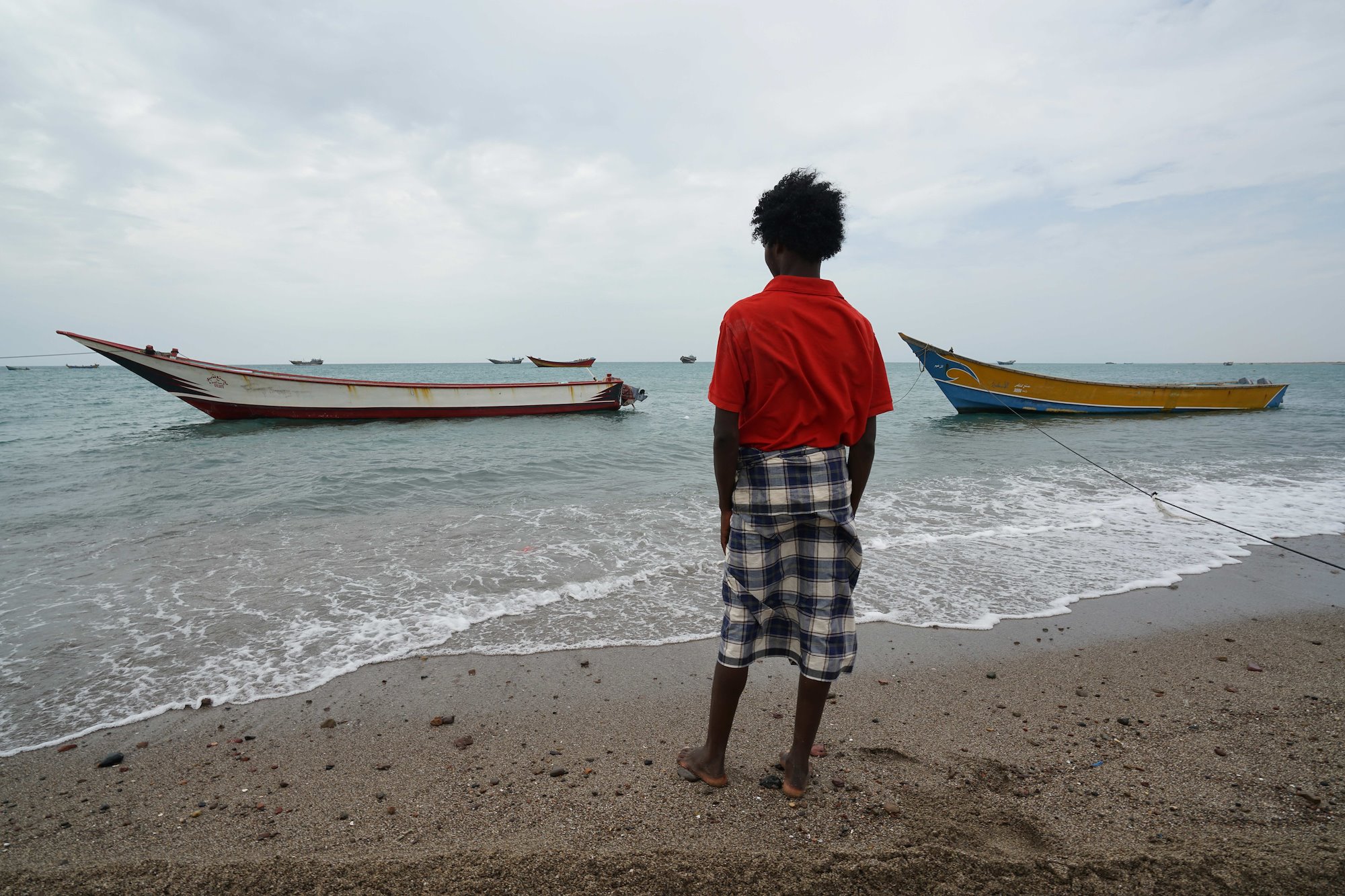 A young Ethiopian man on a notorious smugglers' beach on Yemen's remote southern coast.
"The smugglers gave us mobile telephones to call our families, and they told us to transfer money to them," said the older Mohamed. "During the time, they beat us, using long sticks—"
"—and the butts of their rifles," added the younger Mohamed.
"We were just being beaten, and there was nothing to think about except the beatings," the elder Mohamed continued. "We spent every day there fearing death."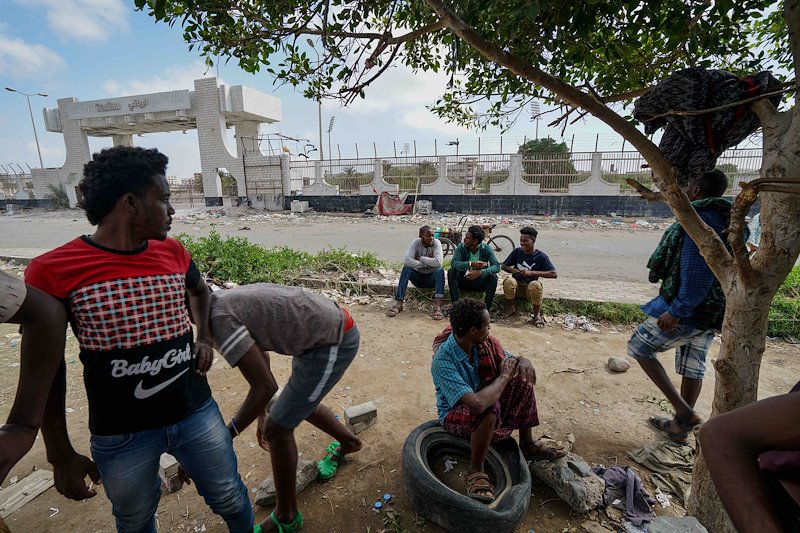 East African men gather at a former football stadium in Aden. The stadium now serves as a well-known meeting place for migrants and refugees who are making their way through Yemen towards Saudi Arabia and beyond.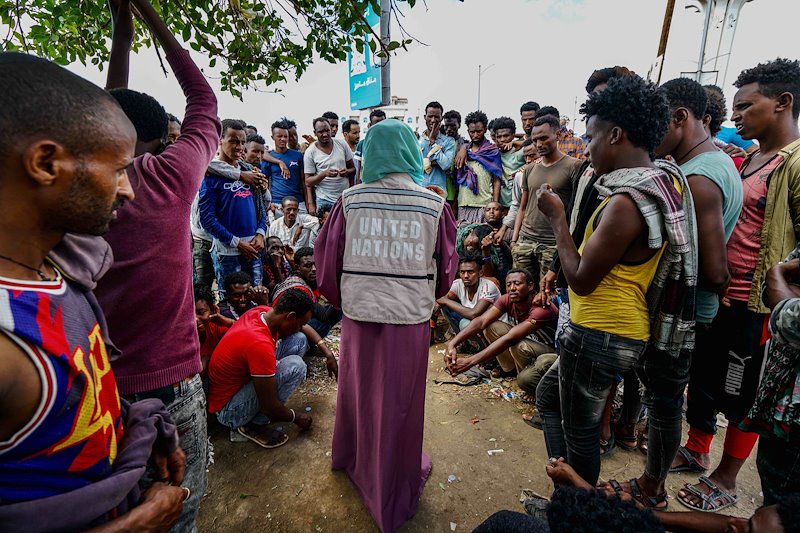 A local OCHA staff member meets with migrants and refugees at a former football stadium in Aden. Many tell stories of kidnapping, extortion and prolonged imprisonment.
The Yemeni kidnappers demanded that their captives paid them 600 Ethiopian birr (around US$15). According to IOM, they were lucky: some migrants get extorted for more than $1,000. It took the young men's families about six days to gather the money and transfer it to Yemen. "When they received the money, they released us, each by name," the elder Mohamed said.
Now, they were both continuing on. Where to, they didn't know exactly, but they would try Aden and then head north. What about the front line? The war? "Eh, we are not scared," one of them said. "After what we have just been through, we might die but we cannot be scared."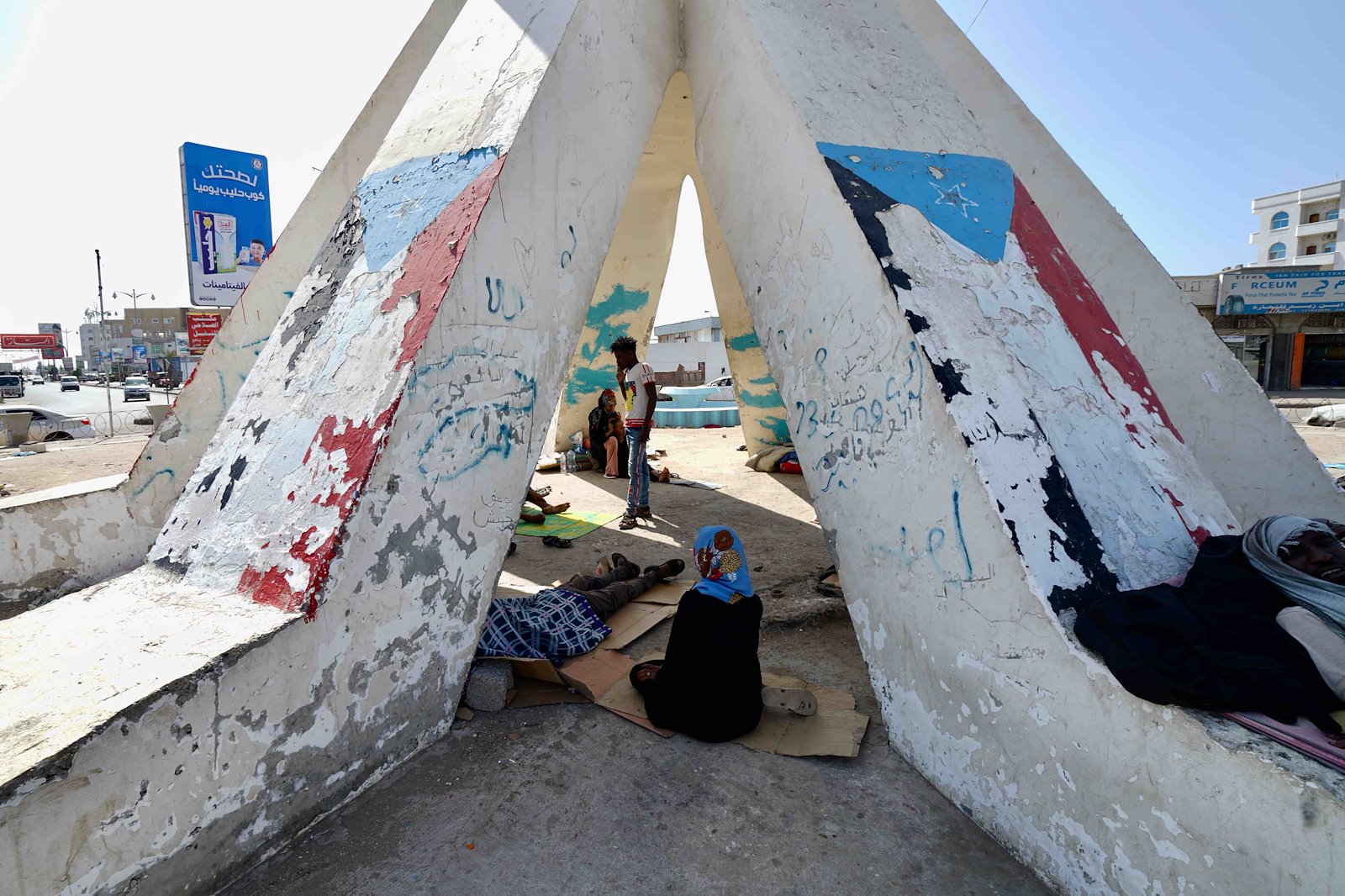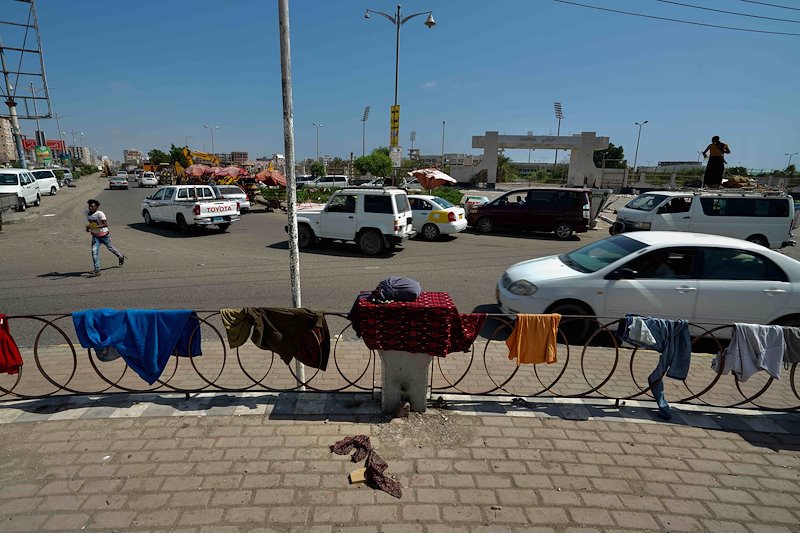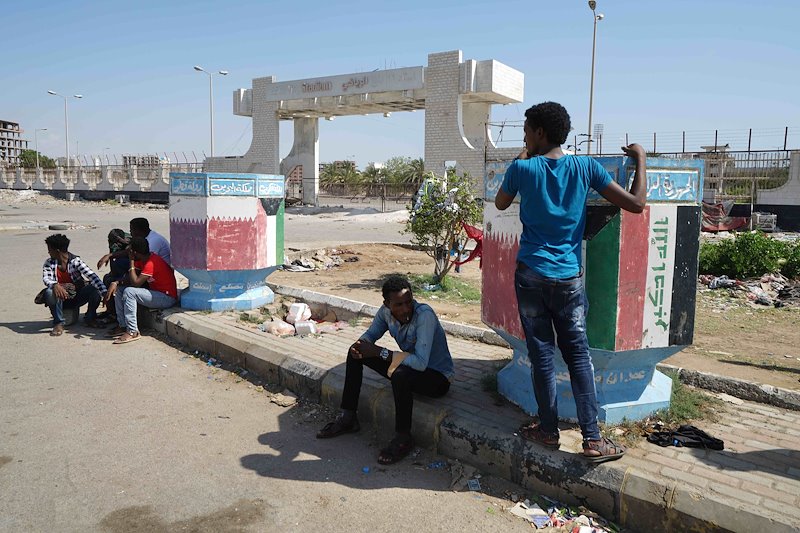 Migrants and refugees next to a former football stadium in Aden.
In early March, the suffering of East African migrants in Yemen briefly made headlines after a migrant detention centre, run by the authorities in Sana'a, was set ablaze. The centre can accommodate only 300 people, but at that time it held a staggering 900 people. Around 350 migrants were crammed into close, jail-like conditions in a hangar area, and they began protesting their treatment.
When a special team called in by the regular guards fired three tear gas canisters into the centre, it caught alight. The detainees were trapped. At least 45 migrants died and more than 200 were injured. One migrant told Human Rights Watch that he saw his fellow inmates "roasted alive."
With conditions so bad in Yemen, it's worth asking why so many migrants and refugees brave the journey. An answer lies in economics—a recent IOM study found that many migrants made just over $60 a month at home, whereas their counterparts could earn more than $450 working menial jobs in Saudi Arabia. "There's no work, no money in Ethiopia," said one of the Mohameds.
But is the risk worth it? Some migrants don't understand the risks they are undertaking, at least when they set off from Ethiopia. The recent IOM study found that only 30 per cent of Ethiopian migrants surveyed arriving in Djibouti knew that there was a war in Yemen. In smuggling ports in Djibouti and elsewhere, IOM-led sensitization and return programmes try to ensure that before the migrants board the boats to Yemen, they do understand the dangers they will face as they travel.
But even after sensitization, and the realization that there is a civil war in Yemen, migrants still decide to make the journey. Some are assured by smugglers at home that everything will be taken care of—only to end up kidnapped or stuck at the Saudi border; some mistakenly believe that the instability will allow them to cross Yemen with greater ease; and others merely assume the risk. As one migrant recently put it: "We are already living in death in Ethiopia."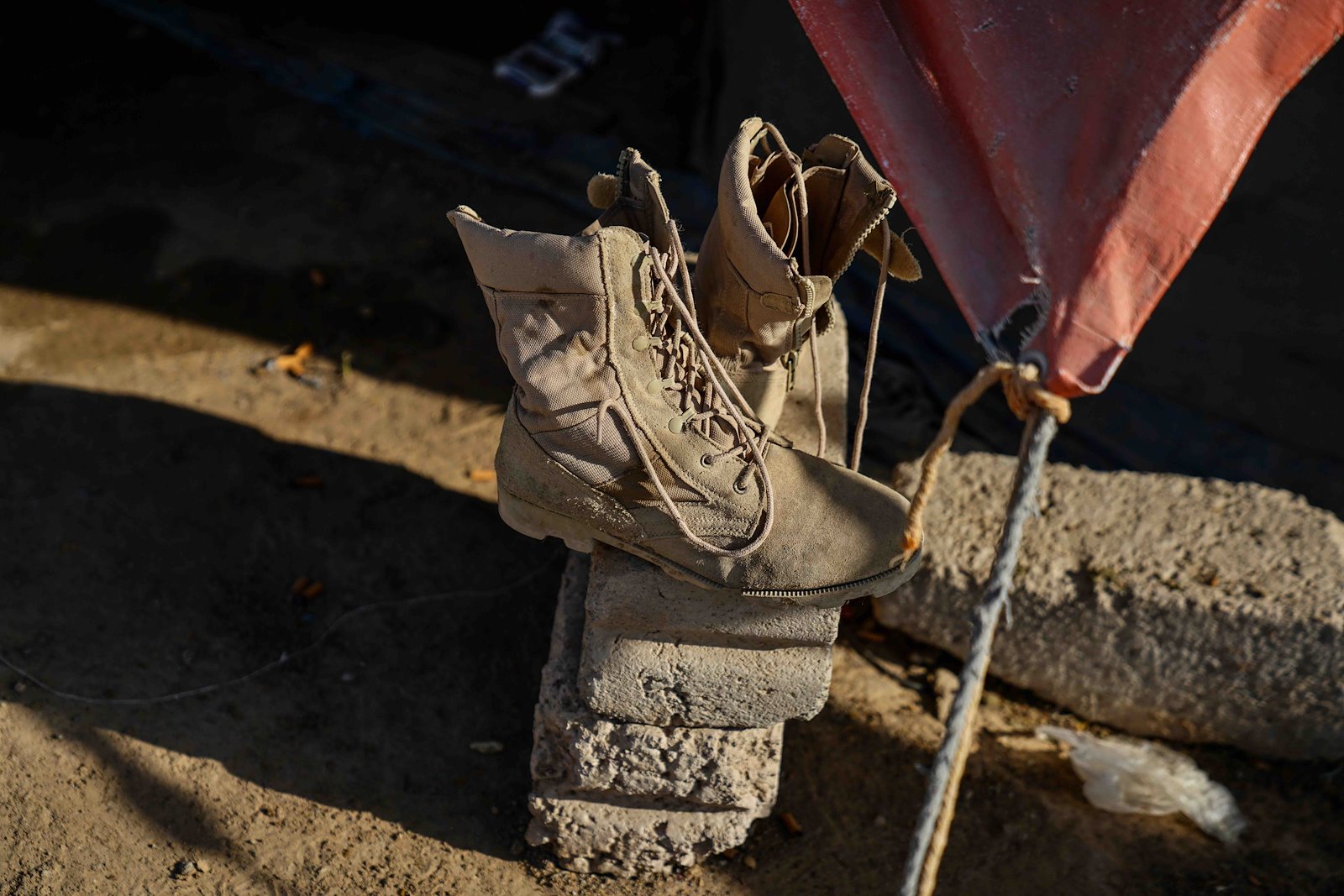 Boots outside a tent in a settlement on the outskirts of Marib in central Yemen. Well-made boots are an expensive and precious commodity for most migrants and refugees.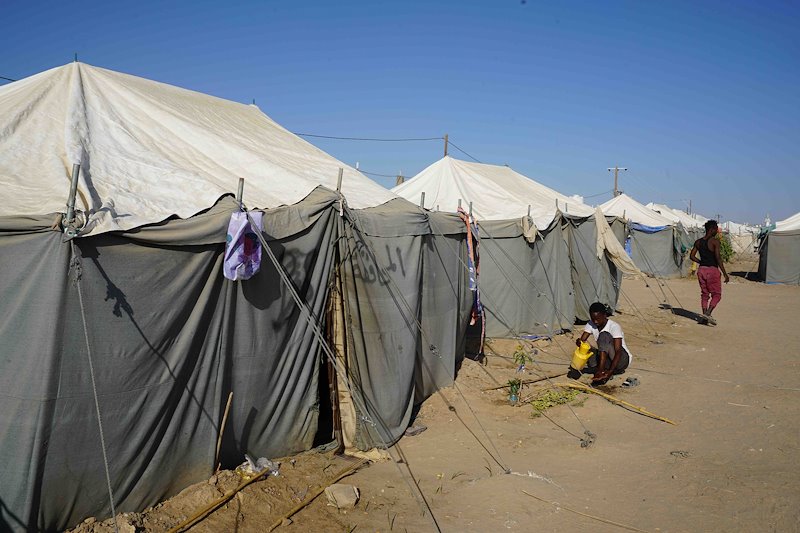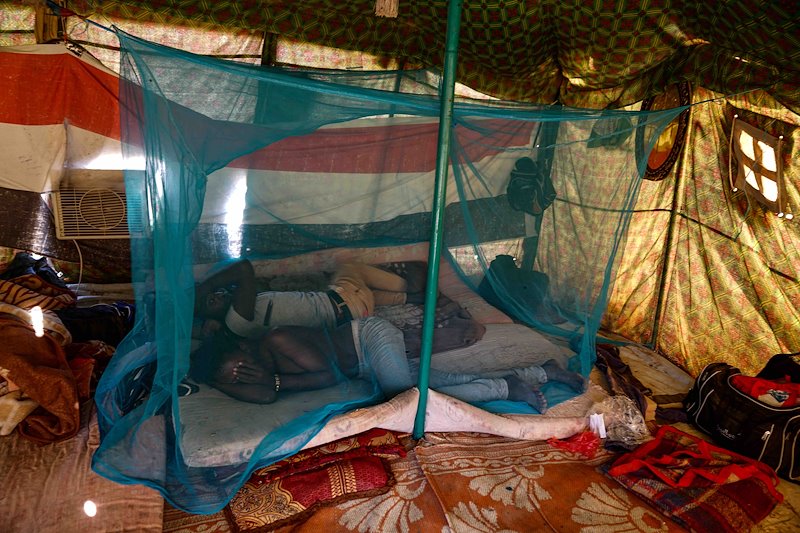 A Government-supported settlement in Marib City. To qualify for free tents and water, these migrants work as street sweepers in the city as well as receiving a nominal sum from city officials. Many migrants are travelling through Yemen and heading for Saudi Arabia, where work opportunities can be better.
Perhaps the best answer to the question of why people decide to make such a perilous journey comes from history. Human beings have travelled along this route since the days of mankind's earliest journeys. It is most probably the path over which, 70,000 years ago, Homo sapiens left Africa and went on to populate the world. People probably always will find a way to continue migrating along this path.
The difference now is that for the past few years, many more people are deciding to make the trip because of the dire economic situation in the region, which is fuelled by drought and war. According to IOM, the number of people making the trip almost doubled between 2014 and 2019. Two years ago, 138,000 irregular migrants travelled from the Horn of Africa to Yemen, and even though pandemic-related concerns deterred a number of people from making the trip in 2020, some 37,500 migrants still landed in Yemen last year. More than 32,000 migrants are believed to be currently trapped in Yemen. IOM's programme to voluntarily return people who have become stuck on the migrant trail has also been stymied by border closures. The result is an intensifying and largely invisible humanitarian crisis in a country fraught with crises—at least 19 million people in Yemen need humanitarian assistance, and 17 million are at risk of starvation.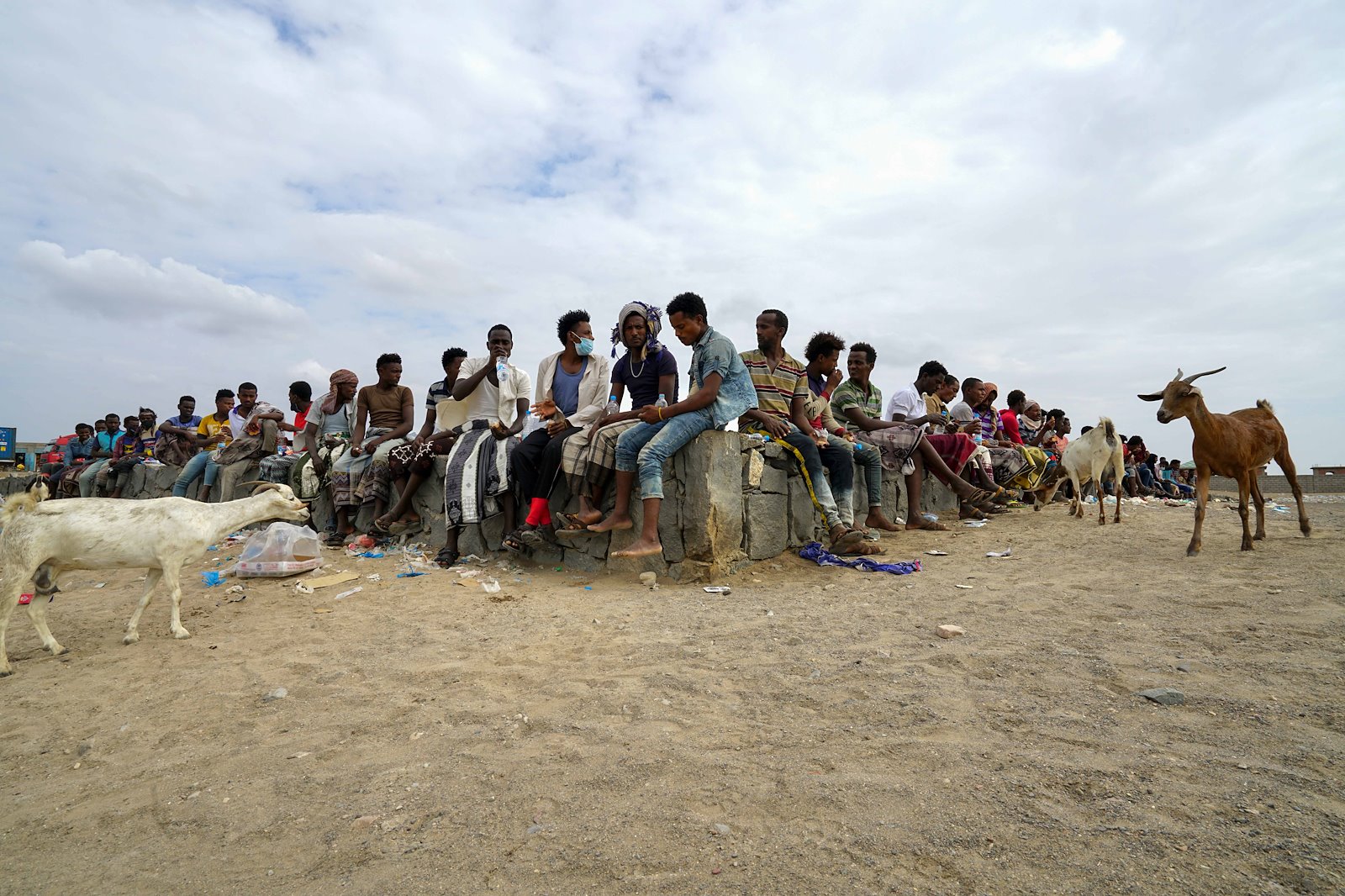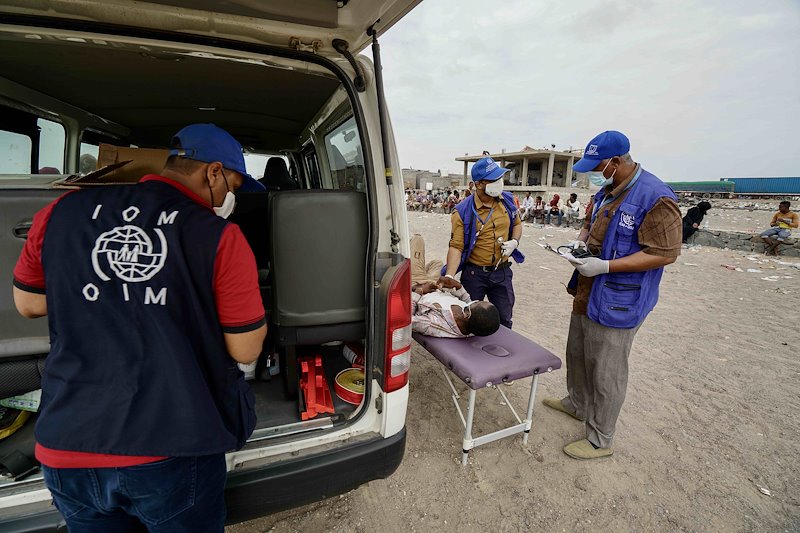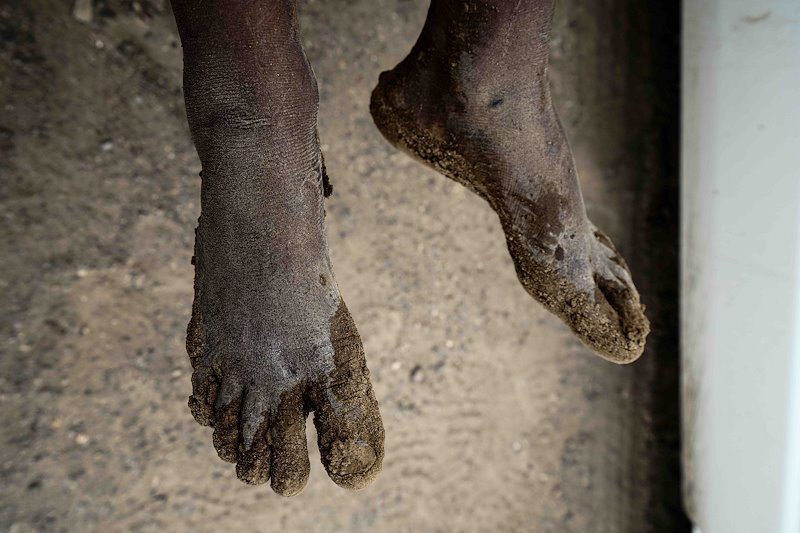 Sitting on a low wall, East African men wait to be checked by an IOM mobile medical team after having just arrived from northern Africa by smuggler boats.
The dearth of funding for the UN's Yemen response threatens the already limited essential services IOM is able to provide for these people. "Migrants are among the most vulnerable people in Yemen, with the least amount of support," said Olivia Headon, IOM Yemen's spokesperson. "This isn't surprising, given the scale of the crisis and the sheer level of needs across Yemen, but more support is needed for this group. It's really concerning that we have over 32,000 stranded migrants across the country without access to the most basic necessities like food, water, shelter and health care."
Near Ras al-Ara, the IOM mobile team set up a clinic to tend to migrants. The migrants can be stuck in the region for months—on rare occasions even years—as they try to work odd jobs and move onwards. "When migrants arrive in Yemen, they're usually extremely tired and in need of emergency medical care," said Headon. "Mobile teams travel around where migrants arrive and provide this care. The teams are made up of doctors, nurses and other health workers as well as translators, because it's vitally important that the migrants and the doctors there can communicate."
Yasser Musab, a doctor with IOM's Migrant Response Point in Aden, said that migrants "suffer in Ras al-Ara." He continued: "There are so many smugglers in Ras al-Ara—you can't imagine what they do to the migrants, hitting them, abusing them, so we do what we can to help them." Women, he said, are the most vulnerable; the IOM teams try to provide protection support to those who need it.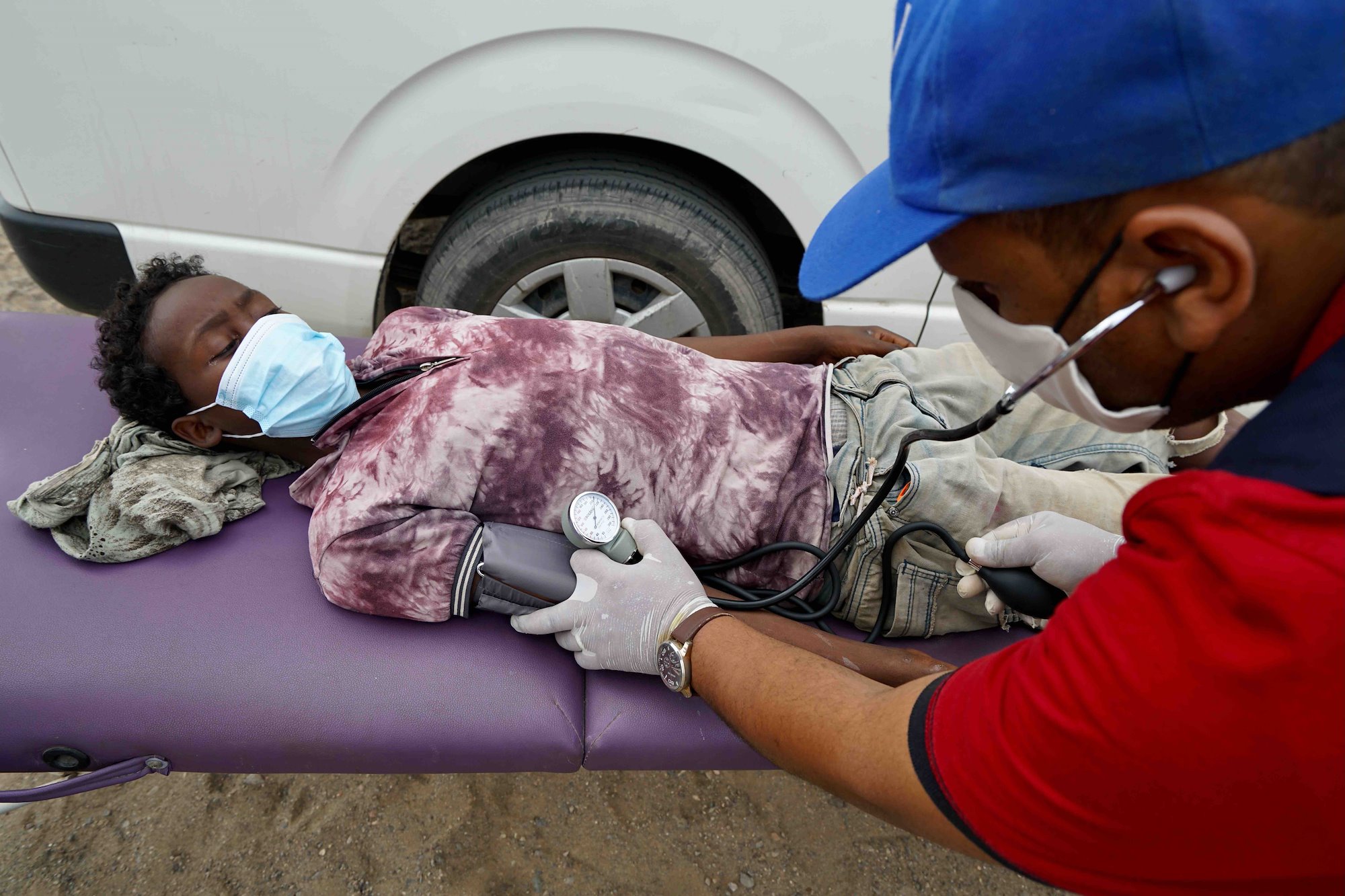 An Ethiopian migrant lies on a gurney used by IOM mobile doctors to check people who have recently arrived.
Around 16 per cent of migrants recorded on this route in the last three months were women (11 per cent are children and the rest are men). "Women are more vulnerable to being trafficked and also experiencing abuse in general, including sexual abuse and exploitation," said Headon. She explained that, unlike men, women often were not able to pay the full cost of the journey upfront. "They are in debt by the time they get to their destination. And this situation feeds into trafficking, because there's this ongoing relationship between the trafficker and the victim, and there is exploitation there and an explicit expectation that they'll pay off their debts." She said that with COVID-19, more migrants have been stuck in Yemen, and women have been trapped in situations of indentured servitude.
Because of funding shortfalls, the invaluable work of providing food, medical assistance and protection support falls to the same IOM response teams. "We distribute water, dates, biscuits," said Musab, "but the main job of the medical teams is to provide medical care." He said that some cases can be treated locally, but some injuries and illnesses require them to be transferred to hospitals in Aden. During the pandemic, medical workers have also been on the front lines of checking for symptoms of the virus among recently arrived migrants. (Contrary to some xenophobic propaganda distributed in Yemen, confirmed cases among migrants have been very low.)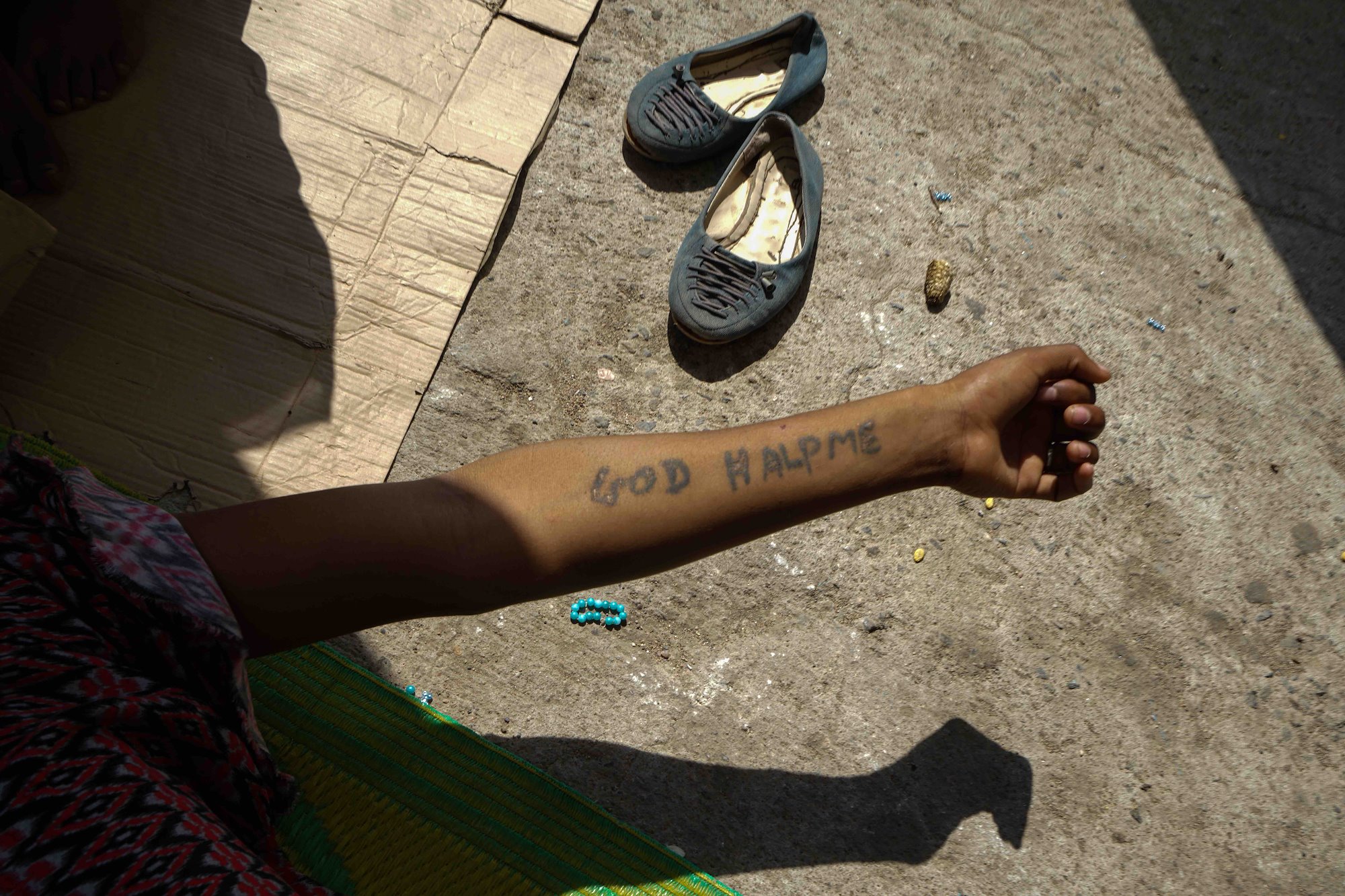 The words 'God Halp Me' tattooed on the arm of a young East African man at a shelter in Aden, on Yemen's south coast.
Ahmad, a farmer in his forties from Ethiopia's Oromia region, was one of the migrants who came to Musab's team for a check-up. This is his second time travelling from East Africa to Saudi Arabia, where he lived twice before the police deported him back to Ethiopia. (Deportations and repatriations of East African migrants have occasionally occurred from Yemen, and more systematically from Saudi Arabia, although these depend upon the wax and wane of bilateral relations between host nations and the migrants' countries of origin.)
Why had he decided to make the journey again? "In Ethiopia there's no money," he said, repeating the common refrain. "In Saudi there's a lot of money and you can earn a lot of money," Ahmad continued, saying he has four children to provide for back in Ethiopia. "I only want for my family to live in peace, to make enough money for my family."
On his first trip, in the early 2000s, Ahmad travelled from Ethiopia through Somalia to get a boat to Yemen and then walked 24 days to the southern Saudi city of Jazan. He was deported to Yemen after six months but was able to enter again, staying there for about 15 years and working on a farm before he was apprehended.
In early 2020, Ahmad decided to make the trip to Saudi Arabia again, but this time his journey was curtailed around Ras al-Ara because of COVID-19 restrictions and local checkpoints. "To survive, I've worked here as a fisherman, maybe one or two days a week," he said. "Now I'm trapped here. I've been stuck here for eight months in this desert."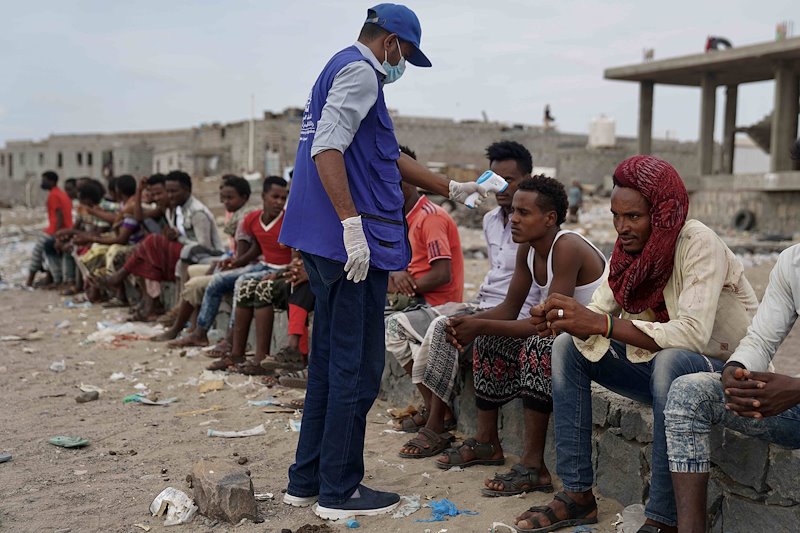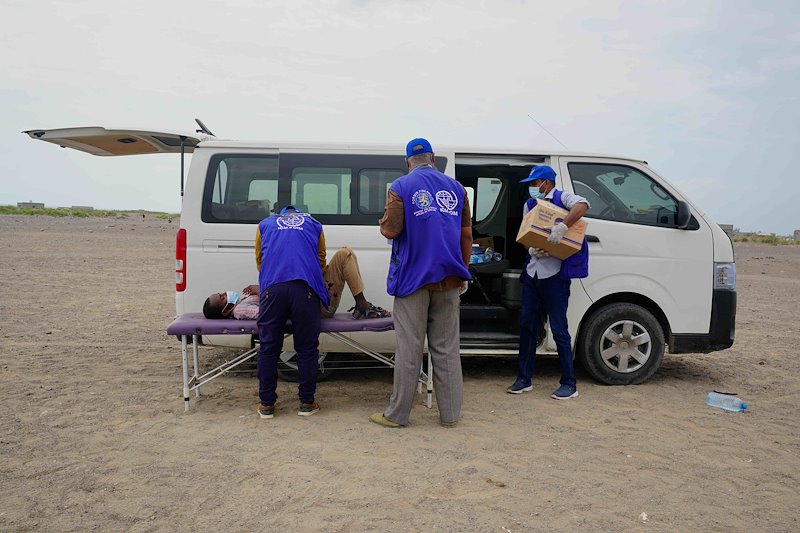 IOM mobile teams perform health checks on recently arrived East African migrants and refugees. Most arrive in the early morning after leaving the north African coast the night before.
Some East African migrants and refugees have been trapped in Yemen for much longer. Since Somalia descended into civil war in 1991, refugees have lived in Aden's Basateen sector. Sometimes locals call it Somal, the Arabic word for Somalia, because so many Somalis live there. People who make the journey from Somalia are automatically considered refugees when they arrive in Yemen. Among them there are those who insist they are better off than they could ever be in their own country despite the ongoing war in Yemen and its privations (of water, health care and safety). IOM and UNHCR run clinics in the area to provide emergency care to migrants and refugees respectively, but with funding for humanitarian assistance running low, not everyone can be provided for.
Saida, a 30-year-old mother of three from Mogadishu, recently visited a UNHCR-sponsored clinic in Basateen so that a nurse could check up on her children. She wore a jet-black hijab and cradled her youngest, a seven-month-old named Mahad. She said the clinic is essential for the health of her young children. Two of them—twins named Amir and Amira—suffered from severe acute malnutrition, she explained, and the clinic provides essential support to her and nutrition for her children. "I came here to provide a better life for my children; in Somalia we were very hungry and very poor," Saida explained. She was pregnant with Mahad when she took the boat from Somalia eight months ago, and she gave birth to him as a refugee in Yemen.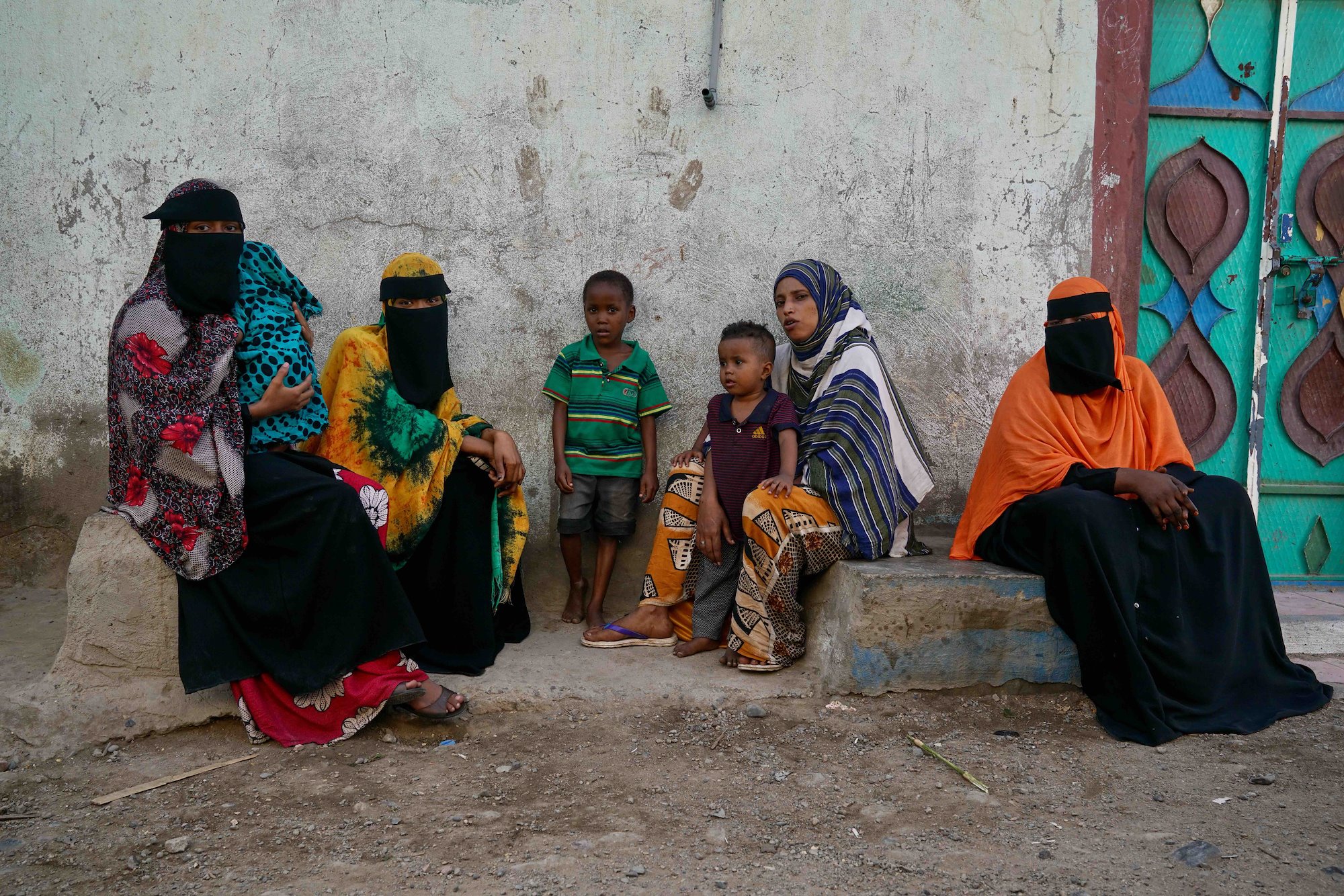 Women and children in the Al-Basateen neighbourhood. The area is home to the majority of Aden's refugees, many of whom are from Somalia.
In Somalia, Saida was constantly afraid of violence. Aden, which has been relatively peaceful since she arrived, seems like a relatively safe place to her. "The war is much worse in Somalia," she said. "I feel safer in Yemen. I'm saving my life right now."
Ordinary Yemenis, for their part, often feel a duty to help migrants and refugees, despite the privations of war—Headon explained that people leave out tanks of water for the migrants traversing the deserts of south Yemen.
Still, Saida says, she cannot find regular work and she relies on UNHCR's services to keep her children alive. "The community health volunteers have helped me a lot. They have helped me take care of my children and put me in touch with specialists, and they taught me how to continue with the treatments," Saida continued. "They also taught me how to identify signs of my children relapsing into sickness or having contracted other diseases. Now, thanks be to God, everything is going well with them."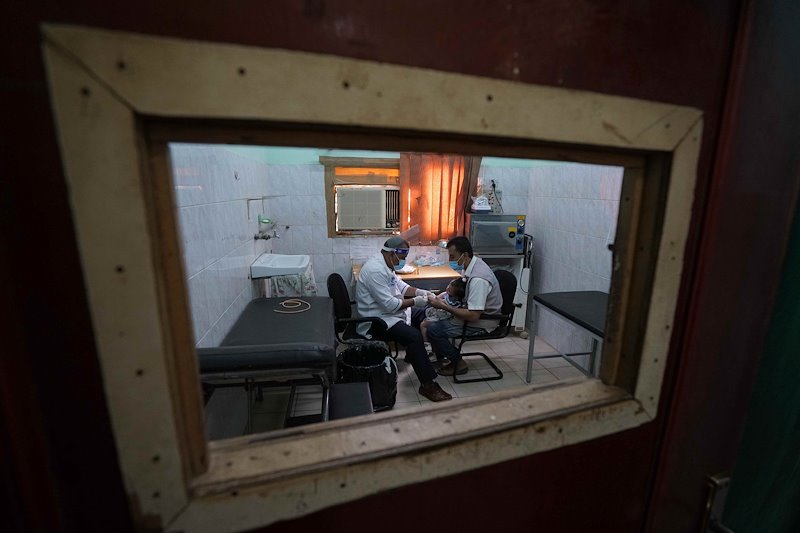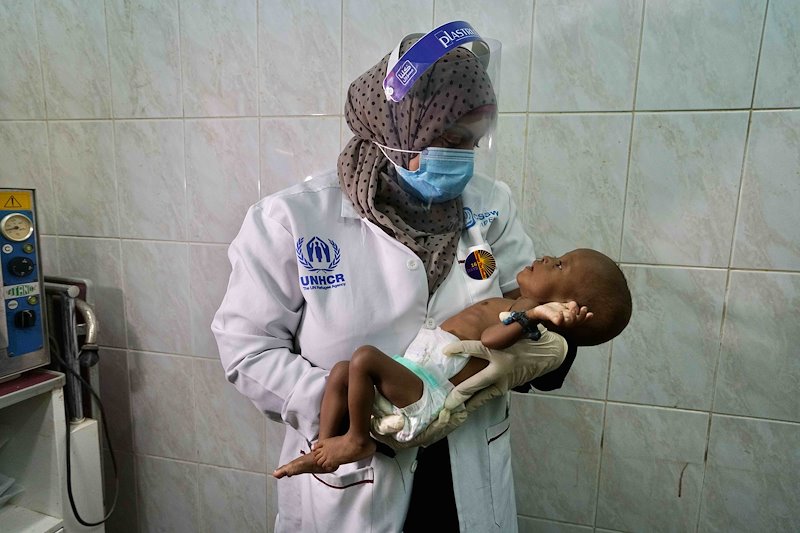 Doctors attend to patients at a UNHCR-supported free primary health-care facility in Aden's Al-Basateen neighbourhood.
In Ras al-Ara, some migrants have settled too, carving out careers of sorts for themselves on the fishing dhows and on long sea journeys transporting people like themselves. On a beach dotted with anchored boats the afternoon after the two Mohameds were freed, a young Yemeni man in a sarong was distributing fistfuls of cash to migrants sitting on the ground. At first, the man claimed that the money was payment for work on the boats, but then he suggested that, in fact, the labourers had been working on a farm. It was unclear why they were being paid.
The men who sat around him in a circle were mainly African migrants, and they waited shouting and jostling before quietening down, as each man got up, explained to the young man what work he had done and received his money. "I fished more than he did," one shouted. "Why are you giving him more money?"
One of the first to get up was Faisal, a 46-year-old Somali man with a pronounced swagger and cracked teeth, his head wrapped in a white turban. He paid around $200 to come to Yemen from Somalia's Puntland region in 2010, and he has lived in Ras al-Ara for the past seven years. He had worked as a soldier in Puntland, but then he feuded with his brother, lost his job and was forced to leave.
In Ras al-Ara, Faisal works odd jobs to get by. On good days he makes just under $20. "Sometimes I work as a fisherman and sometimes I travel to Somalia on a boat to get other Somalis and bring them here." When he wants to find work, he'll come to the beach in the evening, wait with other casual labourers, and then fishing captains or smugglers will come and hire him.
Headon pointed out that the boats are often packed full to increase smuggling profits and that the smugglers often force people from the boats. Usually, Faisal said, there are about 120 people in each 15-metre dhow. "They're overcrowded, and they often sink and many people drown."
Faisal said that the Yemenis had been very accommodating to him. "It's almost like a homeland, Yemen now," he said. Still, he wants most of all to return home once he has saved some money. (IOM and UNHCR run a return programme for Somali refugees, but it has been on hold since the pandemic began.) "Frankly, I don't like it here," he said. "My dream is to return to my country. If I had money, I'd go back to my country directly."