originally published: 01 September 2011 | origin: https://bleacherreport.com/articles/830721-manchester-city-or-manchester-united-which-financial-model-would-you-prefer
Manchester United today announce record profits of over £100 million—only I am told that they don't.
The headline that will no doubt be splashed across the worlds media is about a massive profit but that is something that only exists if you ignore such trivialities as debt costs and player amortisation.
Of course, you can't ignore these costs to the business because they exist and are real.
Once you dig down, it seems that Manchester United made a profit of £10 million and that was reliant on a swanky foreign exchange gain of £16 million.
In simple terms, United made a loss of £6 million without that foreign exchange gain.
One of the problems with financial statements from Manchester United is that everyone accepts that they hide many ills.
Where is the PIK debt that has never appeared on Manchester United's balance sheet as it was Glazer debt and not United debt? And of course we all know that in the end it will be United's funds that will repay that debt of over £200 million.
Then there is talk of all the new and improved revenue streams on the commercial side.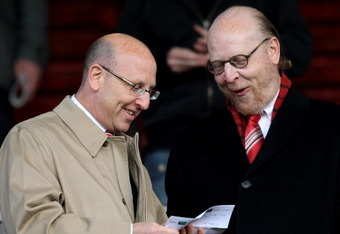 The boys are back in town…Alex Livesey/Getty Images
There is no doubt that the Glazers are masters of generating income. In fact, if they weren't, they and United would likely be insolvent.
From the outside it seems that year on year the Glazers come up with new and inventive ways of hiding the problems that they have created.
From bond issues, PIK notes, final club ownership resting in Delaware and IPO's in Singapore there is no end to the shenanigans that these chaps get up to.
The brand is being permanently pumped for more revenue but perhaps at the risk of it losing its lustre?
All of the Glazers' dealings though are fine and dandy as far as UEFA are concerned.
In fact Michel Platini, the father of Financial Fair Play, says this:
"The fair play ruling does not ­foresee any measures ­being taken against clubs who have enormous debts such as Man United or Barcelona.
"That doesn't worry me, if those clubs can ­repay what they owe."
So in simple terms, United are debt ridden, but that's OK. They turn a profit, but that doesn't really exist. The club is owned by the Glazers, but nobody can actually prove that.
And all of that is fine as far as UEFA and Platini are concerned.
Over in Manchester, there is a club that is owned by an extremely wealthy man who happens to be a member of possibly the wealthiest family on the planet. Sheikh Mansour is a member of the Abu Dhabi royal family.
Manchester City is nominally a private investment by Sheikh Mansour, but in all likelihood the wider Abu Dhabi government and royal family are invested in it as well.
I am reliably informed that the funding streams that Manchester City can call on run to about $1 trillion —or to make the point as clear as possible, $1,000,000,000,000.
The company that owns Manchester City is registered in the UK and files UK results to Companies House.
Manchester City have no debt and pay no interest to any outside company. They do this because their owner is spending his own money and uses debt/equity swaps to make sure the club owes him nothing.
As well as not having debt, Sheikh Mansour has invested in the club's infrastructure, improving every aspect of it from the stadium through to the club shop, from the quality of the food on offer to the fantastic website that City fans enjoy.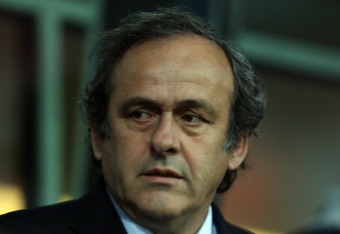 Platini.Ian Walton/Getty Images
As the club develops further there is major investment in the community of Manchester (something that United do pitifully little work in) and a new training centre close to the newly named Etihad Stadium which will form part of the Etihad Campus.
And again I make the point that once all of these developments and improvements have been made, Manchester City as a football club will have zero debt.
There is no end point for Sheikh Mansour because it is a long term plan to make Manchester City the best club in the world.
The image of City is important. The club has to be community based, charitable and has a social conscience.
It actually costs City money to provide City in the Community (CITC) with people and venues as well as direct cash funding of course. And that, in the end comes from the club.
So when City sign a massive sponsorship deal, the world is aghast and questions are asked about how that could be fair?
City's owner and his family have significant investments in each and every one of the Dow Jones, Footsie and Dax top 100 companies.
How can such wealthy and well-connected people not have a link to sponsors and of course companies who want to cozy up to Abu Dhabi royals will want to pay well to dine at that table as well?
But the price is one based on the highest quality. Being associated with City is and will be special perhaps unlike United where, for example DHL are apparently happy paying millions of pounds to be the official domestic training kit provider. That brand begins to lose its lustre a bit more there.
The best example of how the two brands are promoted and indeed why City and United will be unlikely to fight over the same sponsors can be seen on the clubs websites.
Here is United's http://www.manutd.com.
Here is City's http://www.mcfc.co.uk.
Apart from personal preference for design, it is clear that City's lacks something that United's has in spades: Adverts.